Bruce Titus Pet Project
As a way to demonstrate our commitment to the communities in which we operate, the Bruce Titus Automotive Group developed the Bruce Titus Pet Project.
The Bruce Titus Pet Project makes a $25 donation to a local Pet Welfare Organization (see list below) every time someone comes in and mentions the Pet Project while taking a test drive at Olympia Chrysler Jeep, Olympia Nissan, Tacoma Subaru, or Port Orchard Ford.
The Bruce Titus Pet Project Supports:
Tacoma Pierce County Humane Society
o Tacoma/Pierce County Humane Society
§ The Mission of the Tacoma/Pierce County Humane Society is to create positive relationships for people and pets is how they advance the welfare of animals in the community. In existence since 1888, they provide shelter and adoption services as well as resources for families.
Kitsap Humane Society
o Kitsap Humane Society
§ In existence since 1908, KHS serves Kitsap County and beyond. They care for all manners of pets including dogs, cats, rabbits, birds and occasional livestock. KHS is an independent, nonprofit organization. While it contracts with Kitsap County and Kitsap municipalities to provide animal control services, the majority of funding for the operations of the shelter and vet services comes from private donations.
Concern For Animals
o Concern For Animals
§ For over 35 years they have helped thousands of animals in Thurston, Mason and Lewis counties by providing financial aid for the veterinary and rescue services as follows:
· Low Cost spay/neuter
· Veterinary medical care
· Pet Food Bank
· Rescue & Adoption
As an independent not for profit organization they rely on donations, memberships, grants and fundraising events to continue programs for pet owners and their animals.
Since its launch in 2010 we have donated over $28,000 to our local animal welfare organizations through the project. This number does not include donations from pet food drives, Santa Paws or other event sponsorships.
The Bruce Titus family of dealerships wants to support the animals throughout the South Sound area and every $25 donation helps us save the lives of orphaned, stray and abandoned pets.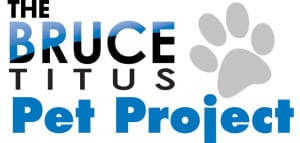 *Bruce Titus Pet Project must be mentioned at time of Test Drive to qualify for the $25 Pet Project Donation to your local Humane Society.